Music in the soul can be heard by the universe. - Lao Tzu
I've always appreciate good quality music, but of course within my acceptable cost. Therefore owning expensive personal listening equipment is never in my consideration list, at the same time I am not some audiophile guru.
As my iPod Nano (4th Generation) is hitting the end of its service period due to wear and tear. I was using my retired iPhone 4 as an iPod, but I sold it away recently.
With the given situation, I have tired having my music playback using my Samsung Galaxy SIII, however the stock music player just wasn't able to produce the type of quality music I am looking for. The music it produces is just too rebellious to be controlled, feeling just like letting lose an untamed beast. Everything is just blasting through into my ear with distortions at times, so using the device as a long term music player was somewhat not within my consideration.
Just few days back, I came to notice this app that has been in the list of Top Paid Apps in Google Play store. I decided to give it a try, and it turns out to be a pretty good decision.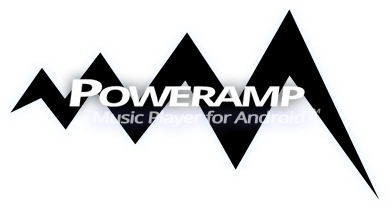 This app is call Poweramp by Max MP. It provided a long list of key features and some gives that edge to take note of. Feature such as a lock screen control, gapless playback, selectable folders scan for music library, 10 band optimised graphical equalizer that comes with presets and allowing custom presets, and Bass and Treble adjustment.
The lock screen control provides an easy access to playback control without having to unlock the screen for navigation. Having to keep unlocking the screen just to skip to the next song in the playlist instantly becomes the thing of the past.
This app came with an Audio Buffer Size and Audio Thread Priority setting, such implementation will allow audio to be buffered before playout to eliminate jittering, and having priority will allow the audio thread to keep the buffer filled for playout.
With the stock Samsung Music Player, it will automatically add all music files and folders into its library which is most of the time undesirable. For this app, it will be possible to select in which directory you want music files to be look up. As the same time, the library navigation interface is much friendlier that the stock player.
And for a player, the most important attribute will be the sound quality it can provide through decoding of the audio file. Poweramp comes with an excellent quality of sound which is not too harsh. On top of the excellent decoding, it comes with a 10 band optimised equalizer, together with some presets and the ability to adjust and create custom equalizer presets. Bundle on the same page is the adjustment for Bass and Treble. It will be good to take advantage of it to produce to sound stage of my liking, hence I went around looking the internet for suggested optimal setting for the equalizer, and however it wasn't fruitful at all. So I started trying out with various setting to see what I can come out with. As I would like a good treble but as the same time not giving up all the bass, I came up with the following settings for my 10 band equalizer, Bass, Treble and DVC enabled.
These settings provided me a clear sound stage with depth, vibrance and crispiness. What I am looking for can be found through this equalizer provided by Poweramp. Now I am addicted much to the music playback on my Galaxy SIII. Hope these settings I shared here will be beneficial for anyone that came across this post. Thumb up for this app.
Audio Playback Specification
Device: Samsung Galaxy SIII (GT-I9300)
Operating System: Android 4.1.2
Earpiece: Westone UM3x In-Ear Monitor